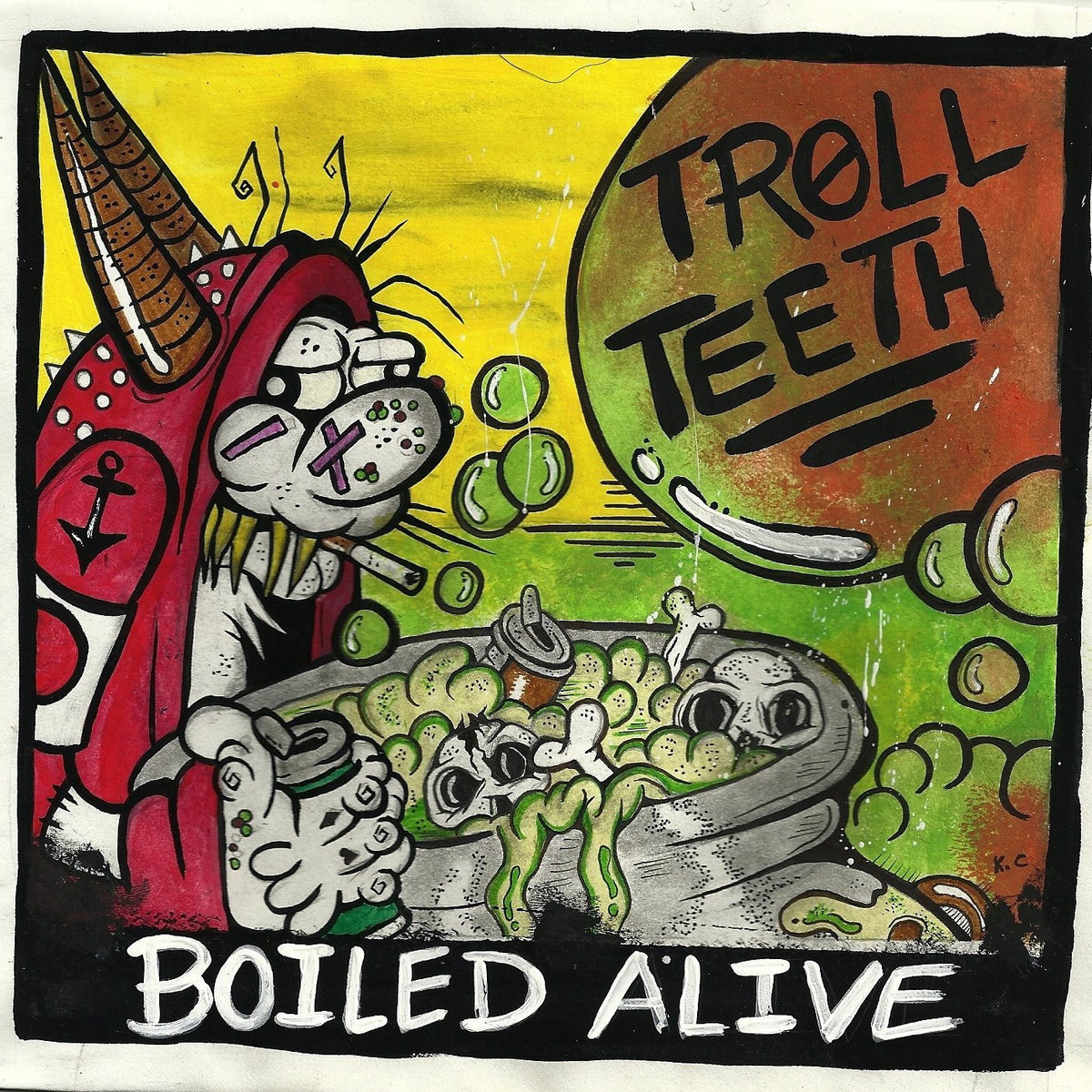 From Blackwood, New Jersey, comes a dollop of madness. Besides being in close proximity to the birthplace of one of the parricidal
Menéndez Bros., it also pukes forth a few treasures. On one hand, the unincorporated town is not very boastful. They don't make huge announcements for tourists, and they certainly don't scream:"The Finest Dining On The Planet!" You can drop by the Chew-Powell House, for a little historical mini-adventure, and then stop in The Holy Tomato for a much-revered pizza. Plus, you're about an hour from the ocean.
On the other hand, they also have good reason to boast through a band known as
Troll Teeth.
They came out of nowhere with a stew pot full of riffs, temping us into their lair.
Amidst the biscuit weevils, they broom up the leftover stoner/doom flour on the floor, and make a HUGE pancake with it. "Here ya go. Eat up." And we do. Heavy stoner rock via a trio of young dudes... Creeping forth with an album, heavy on the psych sprinkles, called
Boiled Alive
.
I like boiled things. Poached things. Troll Teeth apparently enjoys throwing ingredients into a cauldron and rendering them into a fine chowder.
In 2014, we had a taste of Troll Teeth in the form of
Unwanted And Worthless
, an album so groovy, and heavy on the Sabbathy doom, we were all ready to see what fuzziness would grow in their fridge after time.
Boiled Alive
, like an aged cheese, has even more stank on it than the previous release.
Opening with the psych instrumental: "Broken Glass", the oven begins preheating.
"Second Hand Stories" chugs along with water chestnut crunchiness, and opens up into a lilting passage, a melodious
mélange.
"
Ich Hab Die Nacht Geträumet" is a retelling of the classic German folk song, prophesying a coming death.
"Christian Killer" tells the tale of a troll, doing typical troll things. In the Norwegian folk tale Soria Moria Castle, a troll is quoted as saying:
"Ugh! Ugh! Here I smell the blood of a Christian man!".
In the movie "Trollhunter", the trolls are known to be enraged by Christians. Historically, this is thought to be because trolls were once worshiped by Scandinavians. In the advent of Christianity, they were literally forced into the mountains as people continued to use loud church bells, crucifixes, and biblical "power plays"... so the once-feared and revered trolls are pissed off. And Christians are at the top of their list.
"Propaganda Pt.1" is an anti-war ballad for sludge-mongers.
"Propaganda Pt.2" is an inevitable end to the war. The mushroom sung about is NOT a Boletus. It's something much

more villainous and cunning. (Incidentally, this is the Nerve Salad favorite track on the album... awesome riffs)
"Killing Fields" brings a minstrel-y cadence to the fray, in a slow oven.
"Boiled Alive" closes in with a slow-cooker doom jam.
One of the finer things in life is when you get that first taste of Saganaki. Flaming cheese, extinguished with a squeezed lemon. The only thing about Troll Teeth is there is nothing cheesy about it. The flame is there, the crust is there, and the tartness is there. It's heavy, it's flavorful, and the "New Breed Of Sabbath-Heads" will most certainly appreciate this. I dare not compare them to any other band, but if you like stoner rock, doom, psych, prog, sludge, etc., you will like Troll Teeth. You might even be tempted to yell "Opa (
Ώπα)!"
There is much ahead for Troll Teeth. Within the span of two albums, they've completely outdone themselves. I noticed that they take themselves seriously as a band, but have an underlying "tongue-in-cheek-ness" that sets them apart from a few bands in the scene. The ability to probably have a good laugh at one's self is key, and they seem to be able to roll with that. I recently had the opportunity to exchange a few messages with the band. I asked for a recipe. They obliged.
The following is Troll Teeth's special recipe for a pretty badass stew:
------------------------------------------------------------------------------------------------------------------
Southwest Nuclear Zombie Stew
(For the impending nuclear winter)

2 pounds of human flesh (if you're not the undead, 2lbs of beef should suffice or 2lbs of tofu, if you're into that sorta thing.)
1 (14.5 ounce) can peeled and diced tomatoes
1 (15 ounce) can pinto beans, drained and rinsed
1 (15.25 ounce) can whole kernel corn, drained
4 potatoes, cubed
1 cup hot salsa
3 carolina reaper peppers chopped up
2 cups water
1 teaspoon ground cumin
salt to taste (IE a lot because you can never have enough salt)
ground black pepper to taste
1/2 teaspoon garlic powder
A lot of shredded Cheddar cheese

"Cook ground beef, onion, potatoes and carolina reaper peppers until done in a large pan. After that, put the beef, onion, potatoes, carolina reaper peppers, tomatoes, beans, corn, hot salsa, water, cumin, salt, pepper and garlic powder in a slow cooker and let it cook for 5 hours on high. If you want to be quick about it, throw it in a large pan, cover it up and let it simmer for 45 min. Serve; top with cheese when done."
------------------------------------------------------------------------------------------------------------------
I would eat this regardless of the impending zombie apocalypse. Spicy, full of stuff, and easy as hell to make.
Excellence on a budget, a varied blend of ingredients, could fuel you for a day, and works well with experimentation: Sounds like Troll Teeth's recipe echoes the attributes of the band very well.
Thanks, Troll Teeth, for the tunes and the food. When most trolls are trying to eat humans, these guys are trying to feed humans.
To Their Facebook Lair
To Their Bandcamp Lair