Let me start by saying that this album is one I have listened to more than any other album this year, or the past three years. I love it that much. And I'm not really a country music fan at all. Southern Rock, yes, power pop, yes. Psych rock, yeah. Country, nah...
But as of June 2017, this is the Top Album Of The Year.
Sugarfoot are from Norway... made up of members of Motorpsycho, The Pink Moon, Deleted Waveform Gatherings, Too Far Gone, and a bunch of other prominent bands. It's a different world out there, that's for sure. As such, we figure that this would mean we are all stuck in our little musical holes, separated by endless miles of ocean.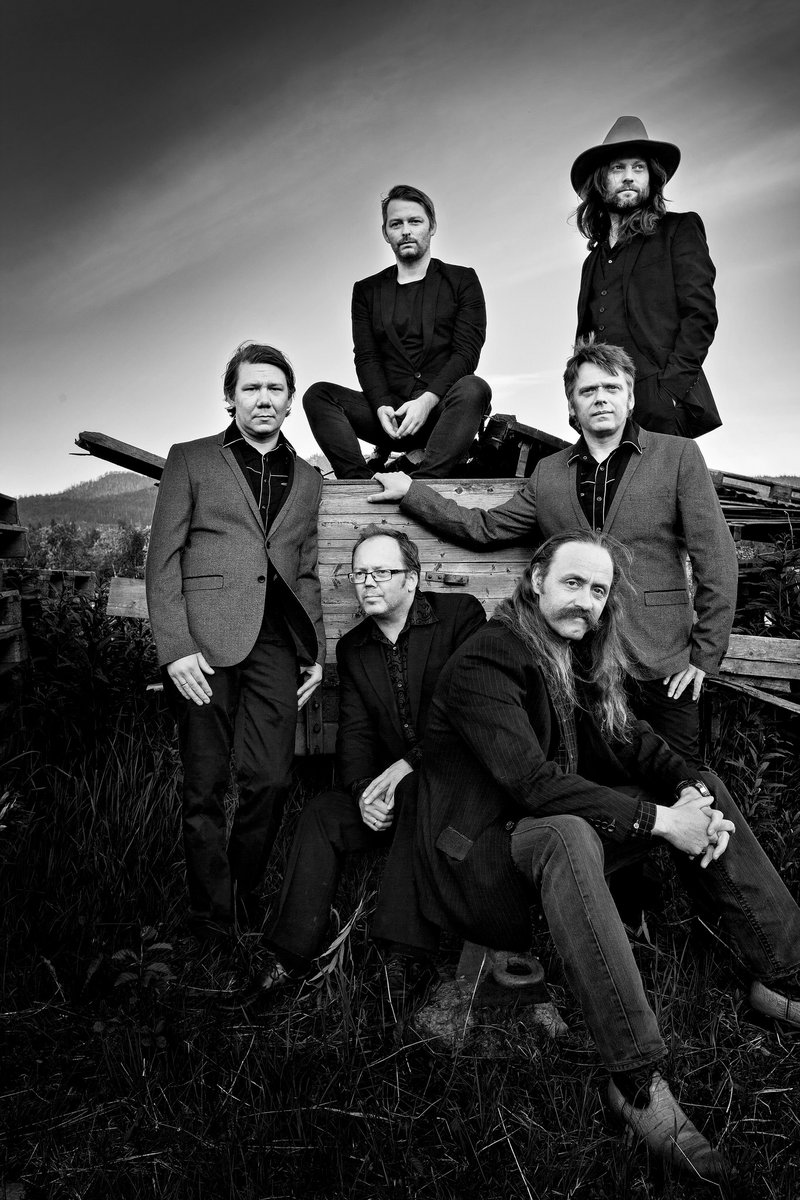 This just isn't the case with Sugarfoot. They traveled a long way to record their latest album. From Trondheim, Norway to Joshua Tree.
This seems to help them capture a certain sound. They take one look at a rattlesnake, one glance at a Saguaro, lift up some rocks to discover a few scorpions, and they divvy up their sound accordingly.
The pedal steel runs the show, but the songwriting and musicianship are the kings.
The album begins with "The Nightingale", which is honestly a psychedelic rock tune. A little CSN&Y, a little Yes, a little America, a little Tonight's-The-Night-esque Neil Young. Hooks that kill. "All Dried Up", a song about smoothing out the edges of loneliness, is yet another psych rock/alt-country tune, and one of my favorites on the album. "A Repossessed Blues" comes in complaining about the heat with a fun rhythm, awesome lyrics, and a great chorus. "A Hungry Man" is the album's single, and it's a strong one. "Schmogne" might be the one song I can't get out of my head for more than a minute. A song obviously inspired by their trip to the USA, they sing about being on an airplane and seeing where it takes them. A super country-ish track that stands out lyrically. "My Buzzing Telephone" has this vibe I can only describe as Midlake-meets-The Smiths, its minor-keyed lamentations of old flames and broken promises...
"Blisters On My Mind", about settling down with a "good one", is a power pop-influenced ditty and jumps in throwing a few uplifting melodic uppercuts into the previously-established moodiness. "Already Counting" begs the question: 'Where did it all go wrong?' while a fading loved one watches his family fight over his "stuff". Picking up the pace is "Coastal Postcard", a rockin' Southern-inspired tune about minding one's own business and having one's own fun, with some real honky tonk hammering. "Snakes And Ladders" is an ode to lost loves and and regaining one's soul back. "A Cog In Your Wheel" tosses a few Neil Young-y grooves and blue collar romance. "Mighty Pharaoh" gives us a little Doors groove, and a few trippy psych rock glances. The album finishes off with the title track "The Santa Ana (Hats Off To Shakey)", the longest song on the album. At 15 minutes, you would think that it would take a while to get through... when this album is over, you'll play it again to let it all sink in even more.
Sugarfoot... what we have is a band that has looked towards American music and interpreted it in such a way that it comes off as something completely different and new. It's not country music, but you could set a few tunes in front of your country pals, and they would be into it (if they have taste). It's not rock music, but you could easily play these tunes in a setting that requires rock tunes. It's not power pop, but you would be crazy to think that there are no influences there. It's not Southern Rock, but you might as well put this in your mix. What we have are odes to blue collars, green collars, and music. Can you listen to this while plowing the fields? Absolutely. Can you listen to this while commuting to the bank? Sure. Can the coal miners listen to this? Of course. There's some James Gang, some Eagles, some 70s psych, and some down-home folk music, maybe even a little early Wilco, probably some CS&N.... you can truly pick out each and every proper influence but still never put your finger on an overall sound.
Sugarfoot released this album, and they became one of my favorite things to come out of Norway in recent years (including Orango, who single-handedly took Southern Rock and made it into a completely new and amazing thing... Norway knows). There is real musicianship here. These guys take their sound seriously.
Just one more thing:
I'm an American. I have Norwegian roots. Rich ones. My whole family is made up of Scandinavians, with one Icelandic exception. My grandfather was a true Nordic countryman. I can't speak Norwegian at all.. I can only read or hear it and translate it slowly. I pride myself in my English from time to time. I like to play with words like toys. English words. That's all I know. When I hear Sugarfoot's lyrics, I get a little envious. How is it that Norwegians have such a poetic grasp on the English language, better than the slangy nonsense spoken in my own homeland? In other words, the music is great, but those are some good lyrics, too. Lyrics that are better than any other American country music lyrics I've heard. Not to mention, these are songs that are actually written by the people that perform them.
Sugarfoot's "The Santa Ana" is in my list of favorite albums ever...
Upon discovery, you might find it necessary to pick up the other Sugarfoot albums:
- "This Love That We Outwore"
- "Big Sky Country"
- "Different Stars"
Give these albums a listen, and soak it all in. This is not country music. It's not Southern Rock. It's not psych rock. It's not power pop. It's music. It's everything.
Check it out!
Buy A Copy Here
And Here!